The transparency of comeDiBuild reaches
your project.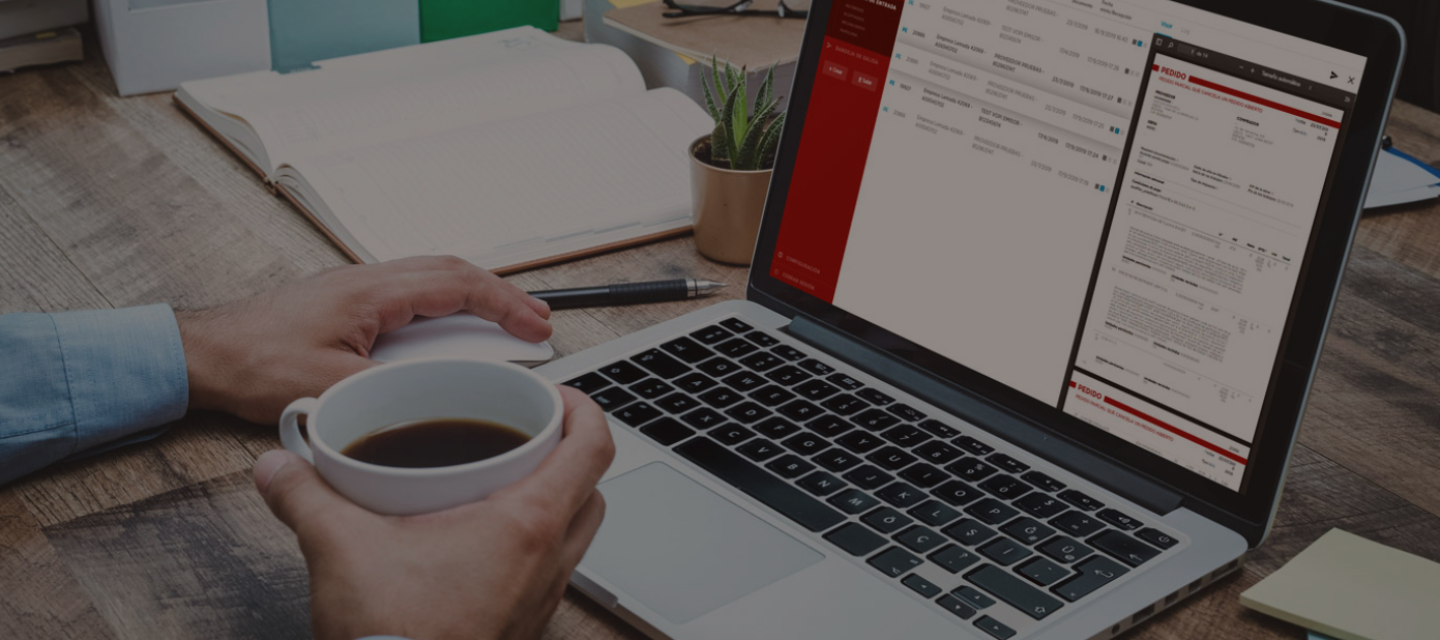 The platform
THE IDEAL APPLICATION FOR THE CONSTRUCTION SECTOR
comeDiBuild is an integral platform for the management of all documents related to a project. It is a platform oriented to facilitating the relation between contractors and suppliers within the framework of project development.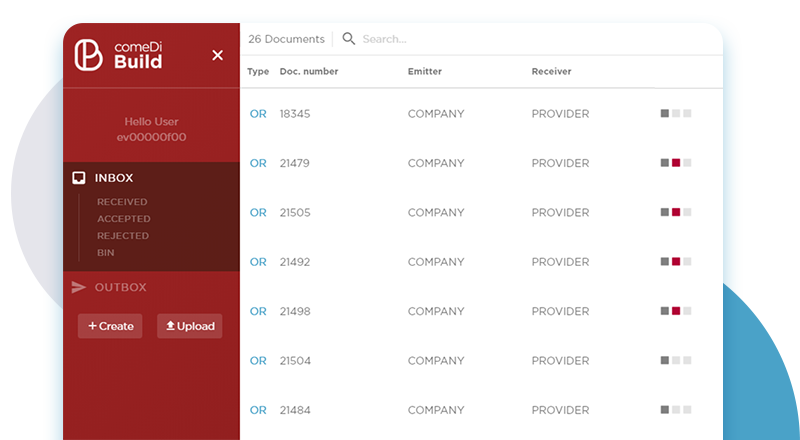 Benefits of using comedibuild
comeDiBuild offers innumerable advantages
comeDiBuild simplifies management and minimizes the time and effort of all users.
All documentation related to a project is contemplated and saved on the platform.
Visualization of the status of orders, delivery notes and invoices at all times and from anywhere.
comeDiBuild legally validates documents because it acts as a notary for all transactions.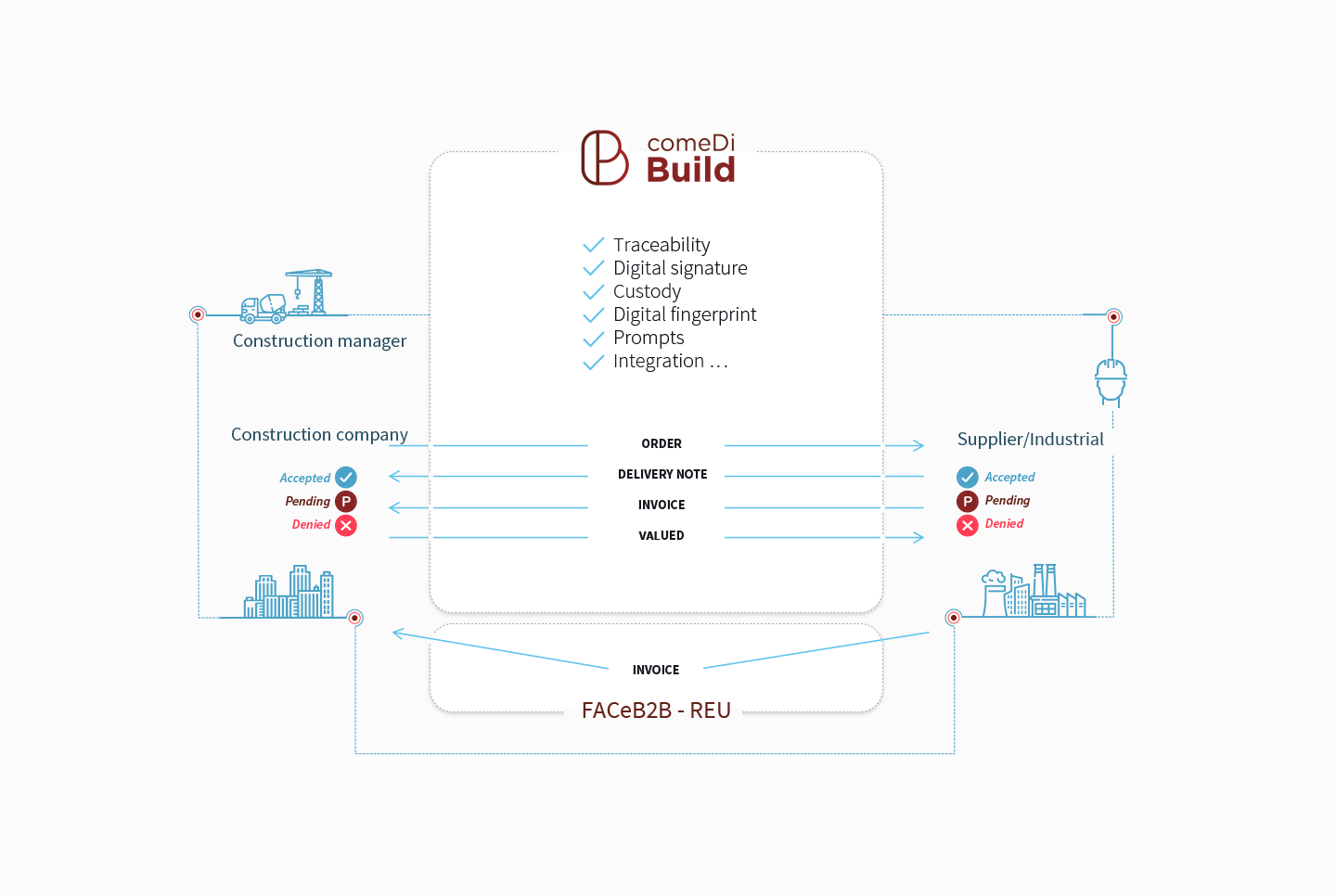 Understand the route your documents take
Accessible documentation at all times
Orders are automatically issued from the construction company's ERP.
The construction manager will publish the appraised delivery note on the platform so the industrialist can see it.
The supplying company can accept or reject the order. Once the order is accepted, it has contractual value.
The platform informs about the traceability of all the interchanged documents, detailing their status.
comeDiBuild has automatic connection to FACeB2B for public works.
The supplier issues the delivery note in a manual or integrated manner from its ERP that will be accepted or rejected by the construction company.
All documents incorporate digital signature, giving them legal force.
Suppliers and industrialists issue their invoices through the platform that will be accepted or rejected by the construction company.
The digital fingerprint certifies the circuit made by each document.
All documents are stored and saved during the specified period.
A single platform
Your administrative project documents managed from a single platform.
The administrative documentation that comes from the management of a project, saved and accessible for construction companies, suppliers and industrialists.
comeDiBuild integrates your documents in a single platform where you can consult their traceability and status at all times. You can store and save your documents for the amount of time you wish.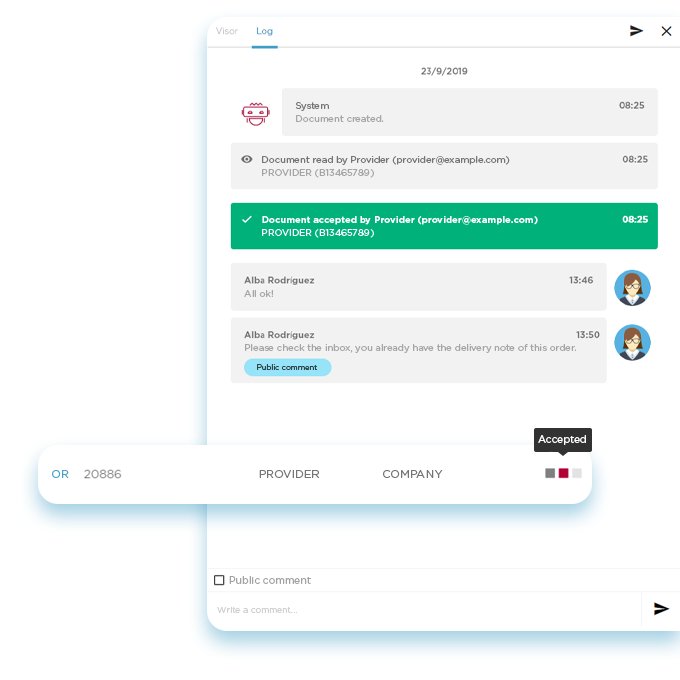 Your solution in the cloud
Your documents available at all times
With comeDiBuild, everything is an advantage:
Efficiency and agility in the consultation and search for documents

Optimization of physical space by eliminating paper invoices

Increase the productivity of work groups

Conservation of documents

Eliminate the risk of loss or destruction of documents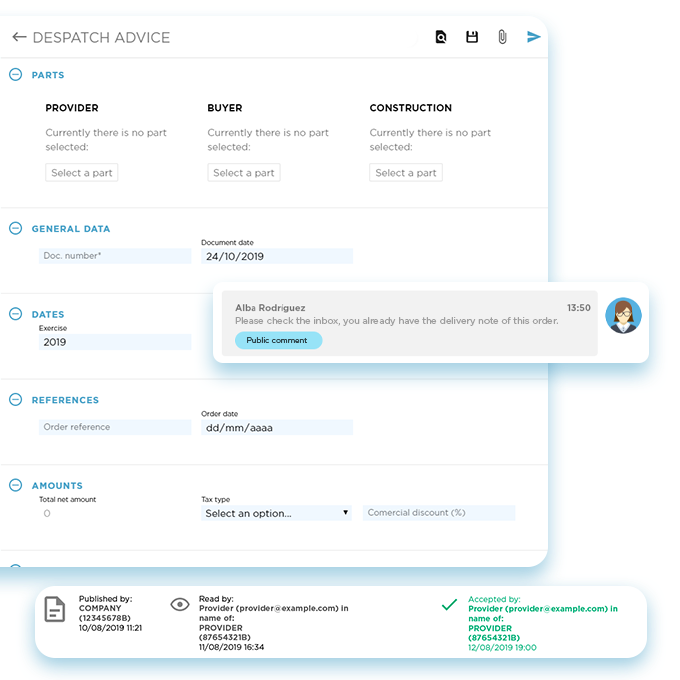 All advantages
Features of comeDiBuild
Management of documents in a single environment.
Integration with your ERP.
Assisted formulas for the manual generation of documents.
Graphic display of documents.
Digital signature of your documents.
Fingerprint reader and acceptance of documents.
Traceability of interchanged documents.
Follow-up on status.
Possibility to make comments in messages.
Notifications of messages received.
Document custody.
Advanced user configuration.
Access to support team to solve doubts or incidents.